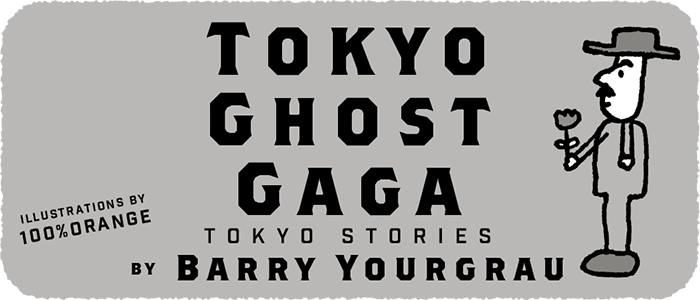 [Japanese]
2 YURAKUCHO YAKITORI
"We're going for yakitori tonight―under the railway tracks!" says my girlfriend, Cosima, the food writer. "Junzo, that nice colleague of your literary agent, Takeshi, just texted me. He's taking us."
"Oh, wonderful!" I tell her. "Though, hmm, remember that time last visit..."
Our last visit in Tokyo, we stopped for yakitori under railway tracks where some rough guys at a table offered us their weirdly red sashimi, then laughed their drunken heads off at us foreigners because it was horsemeat. And their shochu tasted vile.
"But that was in Ueno one afternoon," says Cosima. "Tonight is in Yurakucho―salaryman heaven after work."
Ah, salaryman shitamachi! Old-school common-man Tokyo!
Yes, kaiseki at luxury restaurants is sublime. And high-quality sushi likewise, of course (when someone else is paying). But to eat salaryman-shitamachi style―that is a special joy.
"And Yurakucho looks a snap to get to from where we are," I note. "One stop to Hibiya station, then a short walk to meet Junzo."
But this is Tokyo, so naturally I get lost. I refuse to navigate by Google maps on my cell phone, and Tokyo Metro's wall maps are upside-down to a foreigner's eyes and brain.
After feverish argument, Cosima's cell-phone blue dot gets us to Yurakucho station, where Junzo is waiting. Sparse of hair and round of cheek, Junzo resembles a Buddha wearing Harold Lloyd glasses.
"I'm so happy you're interested in yakitori like this," he says, as he leads into a bustling lantern-lit zone of little ramshackle outdoor eateries that stretch away under the pillars supporting the elevated tracks. Overhead the Yamanote Line goes rushing and rumbling.
"Yeah, we love eating with salarymen and office ladies," Cosima pipes. "We love shitamichi!"
"Not that I'd want to be a salaryman," I laugh.
Junzo turns into a low-arched tunnel way, and we squeeze onto precarious low stools around a small table wedged between beer crates. "Feels like a movie set of bygone Tokyo," I declare, looking about happily.
"You know in the movie, Godzilla destroyed Yurakucho…" Junzo informs me, with a little grin.
"And now the Olympics will do the same to many places like this, no doubt," I sigh. I gaze off beyond the lantern illuminations smoky from grilling, into the shadows rumbling from all the motion above. Figures wander past, in and out of light and darkness.
I finish telling Junzo about my mysterious barber affair.
"Who knew barbers could be so interesting," he says. He rubs his sparse head. "Not me," he jokes.
"Not me either!" I tell him, with my own sparse head. "Hey, what's that they're drinking?" A nearby table of young salarymen hoist beer mugs they've filled from brown bottles. "What's Hoppy?
"It's awful! I sputter, trying some of this 'salaryman's drink'. The nearby table glance over and laugh. I switch to sake. Meanwhile Cosima and Junzo are happy with their highballs―highballs in beer mugs as well. This is most peculiar to my foreign eyes. That is much of what a foreigner does, here and everywhere: constantly notice peculiar little details and differences.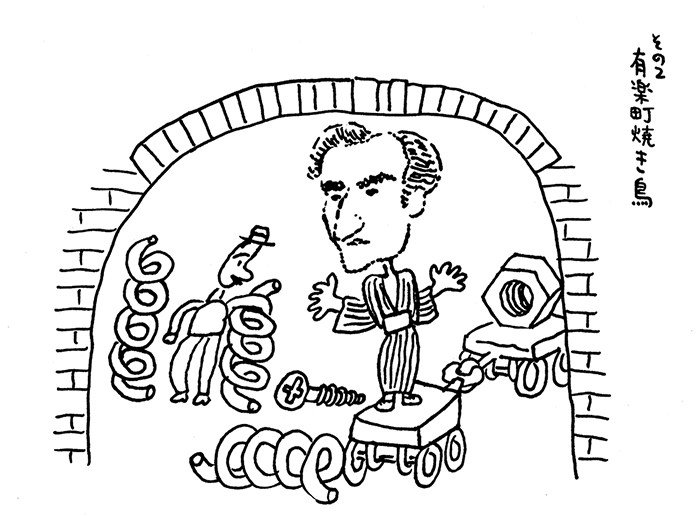 Now, as our table starts to crowd with the little plates, Junzo warns us not to get too full.
"Because we're going next to somewhere very special."
"Ooh, can't wait!" says Cosima, munching and crunching away.
Yes, it's hard not to eat too much of the goodies on sticks the waiter thumps down ―the gingko nuts, the tsukune and reba, the nankotsu, the yakiton. (And no horse sashimi!) Or to drink too much drinkable sake.
"So you like eating under Yamanote Line?" says Junzo.
"Yes, bravo Yurakucho!" we tell him. "Eating under the railway tracks is great."
"Under Yamanote Line!" he corrects. "Extra-special and distinctive for salaryman gourmets!" He grins a very sly grin. "Now you will truly see why."
With this he leads us off out of the tunnel. The nearby salarymen raise their mugs after us. We give thumbs up of solidarity back.
We head along past more lantern-glow tables bustling with waiters, where lingering suit-and-tie business-samurai commuters linger over their brown bottles and little plates. Trains thunder along above, never tiring on their crammed, hurrying commerce. Finally Junzo turns into another low-arched, smoke-hazy tunnel. Midway there's a non-descript door entry with Japanese curtains, almost hidden in the shadows.
We find ourselves in a kind of small garage with a few tables and a cramped cooking and grilling set up. The air is smoky―and very oily.
"Yum," exclaims Cosima, sniffing. "Oishi!"
"What's this, a train repair shop?" I ask, bewildered.
"No!" answers Junzo, delighted. "Extra-special izakaya yakitori!"
He squeezes around a cramped table in the corner. Veteran salarymen, well along in their evening―well-oiled, you might say―blink at us. More grins blossom.
A waiter in a conductor hat and a T-shirt reading "YAMANOTE LINE > KOBE, OK?" appears with menus.
"Cool," I exclaim, "they have pictures of train parts as symbols of dishes."
"No!" Junzo beams in triumph. "These pictures are what's to eat! From Yamanote Line rolling stock―the best! Better than any beef from Kobe!"
The waiter nods, jabbing a finger at his T-shirt slogan.
"Wow!" says Cosima. "WOW!"
"Yamanote Line is good enough to eat…" I gulp in a daze.
"Ha ha! May I order for us?" says Junzo.
"Please!―and this one here looks good," says Cosima eagerly.
"Yes, that's from the tasty part of the undercarriage shock-absorber spring," says Junzo. "They marinate it for several days, then pop it quick on the grill." He leans close, lowering his voice. "They have a private discreet deal with Yamanote Line rail yard, you understand. All supplies, fresh and highest quality certified E237 series rail cars, beautifully maintained. No scrap metal!"
He orders us a "Yurakucho Special" combo and another called "Salaryman's Dream." Presently we're chewing on succulent wedges of red headlamp ("Like sausage!" says Cosima), and chunks of plastic carriage roofing and rain-gutter splashed with honey-soy sauce (Cosima: "Like eel"), on shredded strips of bright blue Yamanote Line upholstery in a vinegary dressing (me: "Like seaweed!").
Cosima is in heaven, crunching away noisily now on garlicky lumps of seared stainless steel passenger baggage racks. The salarymen watch approvingly. Their grins are darkened from the Hoppy variation in their beer mugs, a house specialty blend of "unfiltered special-select lubricating oil" (I'm offered some but, perhaps discourteously, decline).
I raise my big tumbler of sake, my third, to the oil drinkers. "To Yamanote Line! To the salarymen of Yurakucho!"
"To Yamanote line!" comes the exuberant response. "To the salarymen of Yurakucho!" Everybody's tie is off and collar hanging open.
Finally we're too stuffed for more. We take our leave, stepping over to thank the chef in his oil-stained apron, as he manipulates a hunk of axle with his chef's chop sticks and a wrench. We salute our dining companions! We re-emerge with contented sighs back into the tunnel. From overhead comes the ceaseless to-and-fro bustle of the trains―like cattle keeping in good shape in the pasture. The tables along the passageway are less crowded now, it seems, but more atmospheric, jumbled with plates and mugs in the lantern glow and shadows. The smoky night has a slightly haunted air. But raucous too: up ahead a bunch of late-staying salarymen are waving their mugs, chanting along to a pair of strange figures singing and awkwardly dancing in front of them.
Ha! Let's go see," says Junzo.
We follow him closer. One of the entertaining twosome sports a baggy old-school salaryman suit, a bow tie, and an enormous grin. His companion wears a shabby kimono and has the long face of a sad noble clown. They flicker, ghostlike, as they squawk and clumsily enact a soft-shoe routine.
"They're like sozzled ghosts," exclaims Cosima.
"They are ghosts!" Junzo cries happily. "I'd heard they're going around together. That's Hitoshi Ueki, that's his famous 'Mr. Irresponsible' song from the Sixties they're singing."
"I know what I'm doing is bad, but I can't help myself!" he translates the doubled yowling.
"And the one in the kimono is Osamu Dazai," he says.
"Osamu Dazai? Really? How fantastic!" I cry. "Let's ask him if he knows the barber!"
We edge in close. The singing and dancing finishes up, and the entertaining pair fall into each other's arms in a floppy, tipsy hug. The salarymen cheer and applaud.
Junzo steps forward to explain who we are.
"America!" cries Ueki's ghost. "I WANNA GO TO LAS VEGAS!" he whoops, in English.
"Do you know Mister Bruhl, my English teacher?" asks Osamu Dazai's ghost.
"His kimono smells," mutters Cosima, who has a hyper-sensitive nose.
"No, I don't know Mr. Bruhl," I tell Dazai, elbowing Cosima to shut up. "Have you by any chance met any literary barbers in the ghostly realm?"
Dazai blinks at me. He laughs. He sways. Someone offers him more sake. He pushes it away. "I want cherries," he exclaims. "Cherries! I WANT CHERRIES!" he shouts. He stamps his foot. "Cherries―" he sobs.
We all look at each other.
"I still have a sakura-flavored KitKat," Cosima says to me. She feels inside her handbag. She brings out the KitKat for me to give to Dazai―but Dazai snatches it away.
"Smells sweet!" he coos, sniffing it. "Oh beautiful lady, let me kiss your little arm!"
He reaches for Cosima's hand. But she jerks it back.
"Ugh, he smells!" she complains.
"Jesus, just let him kiss your damn hand!" I mutter.
"Oh, lady! Sweet lady!" protests Dazai.
But Cosima steps back even further.
"I'm sorry―" I stammer to Dazai.
Suddenly he looks miserable. "Oh, I'm so miserable!" he cries. He tears open the KitKat and gobbles it down. "Yum! But I'm still so unhappy!" he wails, spouting pink KitKat bits.
"Hey, hang loose, Dazie-Wazie!" chants Ueki, who comes over to cheer his companion.
"Hang loose, hang loose!" chant the salarymen around us.
But Dazai won't be consoled. "I'm going to do myself in!" he wails. He wheels around, flickering madly. He careens away headlong past the railway pillars.
Everyone cries out after him. Ueki gives lurching chase.
"This is very sad," says Junzo.
But happily Ueki catches up with his fleeing pal. After a few moments, the pair of ghosts are arm and arm, staggering off into the night, crying "Oh, we're so reckless, so irresponsible are we!"
And so our evening draws to a close. We head back to Hibiya with Junzo's assistance.
"I'm sorry, but he really smelled," Cosima insists.
(to be continued next month)
Copyright(C)2019 by Barry Yourgrau
Originally in NAMI Magazine, 5/19
About the Author
"I can never remember my dreams so Mr. Yourgrau's stories are a pretty good substitute."— David Byrne

Writer-performer Barry Yourgrau is the author of books of surreal, funny, intensely short stories, including A Man Jumps Out of An Airplane, Wearing Dad's Head, Haunted Traveller, and The Sadness of Sex, in whose film version he starred.He's also written a memoir, Mess, and anti-kids' stories for kids, Nastybook.

Barry is the only American author who's published short fiction on Japanese cellphones (keitai shosetsu). His work has a fine following in Japan.
 As performer, he and his stories have appeared on MTV's "Unplugged: Spoken Word" and NPR's "Selected Shorts" and "All Things Considered," among others. He won a Drama-Logue Award for "Wearing Dad's Head: The Live Version" and was invited to Sundance Theater Lab to workshop Haunted Traveller. He is proud of starring in Anthrax's heavymetal music video, "Black Lodge".
 Yourgrau's fictions have appeared in New Yorker.com, The Paris Review, VICE, Story, Bomb, Poetry, Film Comment, Monkey Business Int'l, Little Star, Harvard Design Magazine, and various anthologies. He's also written for the NY Times, New Yorker.com, Wall St. Journal, Spin, Paris Review Daily, The Baffler, HuffPost, Salon, Independent (U.K.), Artforum, etc. He's blogged for PsychologyToday.com.
 Born in South Africa, he lives in New York and Istanbul. And travels a lot.