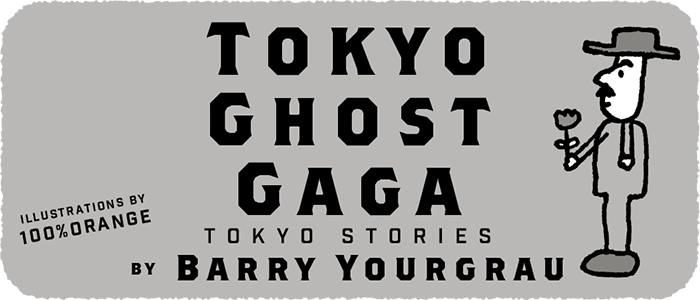 [Japanese]
1 Sakura-Zoku
I arrive for a visit to Tokyo. It's almost ten years since my girlfriend and I last came.
We're thrilled. We plan to stay a month.
First thing, we ride the metro up to Ueno Park. It's the tail end of sakura. We rush into the park. Yes! Some trees are still in their glory! We actually cry out in delight. The pink blossoms overflowing the branches are like an ecstatic rubble of cotton candy and cake icing. As if nature had erupted into a sugar-mad bacchanal of dessert.
Sure, we have sakura season in New York, where we live. But we don't have the hanami picnickers camped here on blue cloths, drinking and eating and laughing under the crowded boughs. My girlfriend and I amble through the scene, grinning and admiring. This is our first hanami in Tokyo.
"Look what they're eating!" she exclaims. She's a food writer, you know. "Kawaii! Oishii!" she says to a young couple, who are munching rice balls—dyed sakura pink. She gives thumbs up. The couple grin, give thumbs up back.
"Where you from?"
"New York."
"We love New York!"
"We love Tokyo! And hanami!"
We move on, sharing the rice ball the couple gave us. "Yeah, I love Tokyo," I repeat, pointing out the pair of older ladies in strikingly gorgeous kimonos, who are posing with red parasols under the blossoms. "Makes me think of my favorite scene in a Seijun Suzuki yakuza film," I add exuberantly. "Gangsters parked under a cherry tree in flower!"
"Huh?" says my girlfriend. "You and your yakuza movies!"
A sudden commotion of voices makes us turn around. A gaggle of tourists, identifiable by their cheap yellow baseball caps, are gathered under a tree thick with pink. They're taking photos of one of their group, who's actually climbed up onto a branch. Picnickers rush toward them, protesting angrily. "Some idiot is up there shaking the petals down," I exclaim, as we hurry toward the action. "I've read about it! Breaking off souvenirs!"
The picnickers are truly furious, screaming, shaking fists. Violence seems in the offing in the spring air. Police in white helmets appear in the nick of time. They order the offending tourist down, and lead her away—it's a young woman, grinning in fright and shame, letting drop the sprig of blossoms she'd snapped off—while her sheepish yellow-hatted companions follow after, accompanied by the execrations of the picnickers.
"Dumb tourist, trying to take blossoms," my girlfriend says, as we turn away. "We are good tourists!" she announces to everyone. "We respect sakura!"
At this point I realize she's wearing a large cherry blossom on her head.
I nudge her, mutter to her to take it off.
Bewildered, she reaches up. "Ouch!" she yelps." It's growing there!"
"What the hell! Here—" I take hold of the blossom. She squeals that I'm hurting her. She slaps me.
Picnickers are now staring at us. Some are getting to their feet. The women cover their mouths with their hands.
They're laughing.
Laughter breaks out all round. People point their cell phone cameras.
A surreal spectacle unfolds, of me trying to tug the blossom loose and my girlfriend squirming and yelping and slapping. Finally the pink thing comes off. The crowd looks on gleefully. I display the blossom all round in mock triumph.
"Let's go," my girlfriend demands piteously. "We've seen enough here. Wait stop—" she cries, as I start to throw the blossom away. "It's mine. It's pretty!"
We head off, accompanied by thumbs up and good-natured laughter.
Suddenly there's an alarmed cry. A woman clutches her head. A big blossom sprouts there. A guy squawks—grabbing at the pink on his head. The merriment turns raucous as cherry blossoms bloom there, and there, and there.
"Must be some kind of sakura contagion," I tell my girlfriend happily. "Delightful, no?"
"Yeah, unless it happens to you," she grumbles, wearing my hat pulled low to suppress another episode.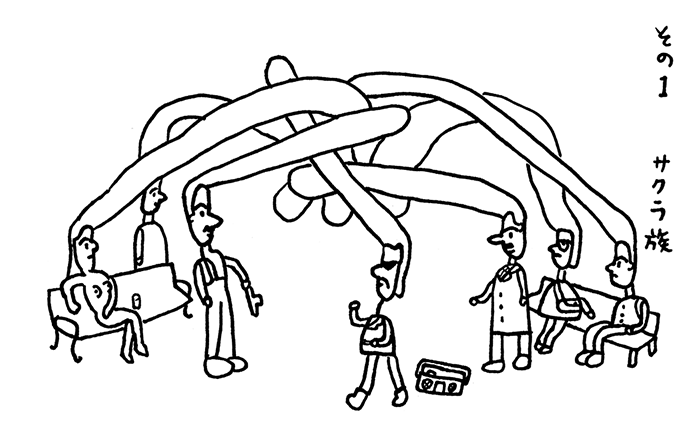 I grin tenderly and kiss her cheek. Very kawaii, I tell her she is.
As we approach the stairs, a further spectacle stops me. Old rock and roll is throbbing; a group of guys in black are dancing in a circle. I ignore my girlfriend to hurry over. The guys—there are a couple of girls too—are clad in archival rockabilly style, black jeans and leather jackets. But their hairdos—they're astounding. They tower up from their heads in the most preposterous exaggerations of rockabilly coifs.
The ludicrously haired dudes are cutting it up solo, gravely doing the twist and then launching across the musical decades into breakdance spins and gymnastics on the ground, to the boombox blare of "Johnny B. Goode" by what sounds like a Japanese band.
"What a crazy mix of genres—so Japanese!" I laugh to my girlfriend, who's come up beside me. I give thumbs up to dancers close by. They ignore me haughtily.
I ask a hip-looking bystander beside who they are.
"Roller–zoku, rock and roll tribe," he informs me. His English is good. "They used to be in Yoyogi Park, now they come here."
"Everybody likes hanami in Ueno!" I joke.
He laughs—then blinks at me and gives a bark of surprise, pointing at me.
"Your head!" cries my girlfriend. "Your hairdo—it's just like theirs! It's pink."
And it won't come off.
On the metro back to where we're staying, our fellow passengers stare. I have a scarf tied over my towering greasy cherry-pink coif. My girlfriend still wears my hat low, carrying her cherry blossom. She grins at me. The dancers at Ueno though were not amused. Not at all. They felt insulted. We had to leave in a hurry.
At our rented apartment my girlfriend puts her blossom in a bowl and covers it with an inverted larger glass bowl, just to be safe. "Pretty," she says.
"I look like an extra-terrestrial tropical mutant," I moan into the bathroom mirror. Especially since I'm actually bald.
In the morning I slink out and manage to find a barbershop with a handmade sign in the window featuring a cherry blossom. On the way I pass hipsters with cherry-pink frappucinos outside a Starbucks, and office workers munching cherry-pink KitKats inside a konbini.
The barber is old and grouchy and speaks no English. The linoleum around his ancient barber chair is littered with pink clippings.
"Hanami-tsūrisuto," he mutters, roughly adding my pink clumps to what's on the floor.
"Sakura-zoku!" I retort, annoyed.
This makes him bark out a laugh, snorting approvingly.
So when he tacks on his hefty hanami surcharge to the regular price, he does so with an almost amiable flourish.
As I'm leaving, he suddenly waves at me to wait. He eyes me. He scribbles something on a piece of paper. He hands it to me.
"Much better," my girlfriend declares, on my return with my shorn scalp.
"Barber was a weird old coot," I tell her. I show her his note.
"It's in Japanese," she says.
I tell her I noticed that myself.
"This is old writing," says the smartly-dressed young concierge down in our building lobby. She peers. "It says… Hello, Mr. Honorable Customer Person from Foreign Lands! I admire your good humor and spirit! I like your books, very oyaji gyagu! Our association of traditional barbers prints a superbly special private literary magazine, Flowers of Oyagi Gyagu (no joke!). We would be honored if you would write for us about our city, your impressions and experiences!"
She stares at me. I stare at her. She titters, covering her mouth. I laugh in bewilderment.
"Go back to the barbershop!" says my girlfriend, delighted. "Have the concierge write a note asking for further details—why not?"
"Gosh, I hadn't thought of that!" I mock her.
But the barbershop isn't there.
I blink at the small empty space standing eerily between two shops.
"Hmm…" says my editor at my Japanese publisher, when I show him the barber's note over coffee and pink cookies that afternoon. "Either it's a practical joke, by a barber… Or it's a ghost. Maybe both...."
"A ghost? But how would it, or the barber, know about me and my books?"
As I ask I'm beaming, because my shameful, gluttonous writer's ego is inwardly feasting on being recognized in public.
My editor shrugs. "Maybe they saw your picture on your books while browsing in some bookstore." He strokes his chin. "Never heard of such a barber association magazine." He chuckles painfully. "Its title of course is a really lame pun on a famous Osamu Dazai story. Hmm… If it is a ghost," he declares, "better not upset it. Write some stories as suggested. Just to be safe."
"But write them for whom?" I ask.
He sighs, a heavy sigh. "Okay, we publish a literary magazine. I suppose we could run your Flowers of Oyaji Gyagu pieces…" He rubs his brow, wincing. "God, what an awful title, they'll fire me before they agree to it!"
But as you see, he's wrong.
(to be continued)
Copyright(C)2019 by Barry Yourgrau
Originally in NAMI Magazine, 4/19
About the Author
"I can never remember my dreams so Mr. Yourgrau's stories are a pretty good substitute."— David Byrne

Writer-performer Barry Yourgrau is the author of books of surreal, funny, intensely short stories, including A Man Jumps Out of An Airplane, Wearing Dad's Head, Haunted Traveller, and The Sadness of Sex, in whose film version he starred.He's also written a memoir, Mess, and anti-kids' stories for kids, Nastybook.

Barry is the only American author who's published short fiction on Japanese cellphones (keitai shosetsu). His work has a fine following in Japan.
 As performer, he and his stories have appeared on MTV's "Unplugged: Spoken Word" and NPR's "Selected Shorts" and "All Things Considered," among others. He won a Drama-Logue Award for "Wearing Dad's Head: The Live Version" and was invited to Sundance Theater Lab to workshop Haunted Traveller. He is proud of starring in Anthrax's heavymetal music video, "Black Lodge".
 Yourgrau's fictions have appeared in New Yorker.com, The Paris Review, VICE, Story, Bomb, Poetry, Film Comment, Monkey Business Int'l, Little Star, Harvard Design Magazine, and various anthologies. He's also written for the NY Times, New Yorker.com, Wall St. Journal, Spin, Paris Review Daily, The Baffler, HuffPost, Salon, Independent (U.K.), Artforum, etc. He's blogged for PsychologyToday.com.
 Born in South Africa, he lives in New York and Istanbul. And travels a lot.